Congratulations on discovering one of the most unique games in the App Store! Did you ever wonder what would happen if you take a big, serious game engine and use it to make a simple, humble word game? Wonder no more - Wordastic is just such a game.
Using an advanced engine from the uniquely-styled Desert Quest, Wordastic is arguably one of the most beautiful word games created so far. You can play it in the Classic mode when you want something calm and unhurried, and just want to relax a little - the peaceful, animated environment and a serene, soothing soundtrack help you achieve this. Alternatively, you can play the game in the fast-paced, take-no-prisoners Arcade mode, where every second you wait counts against you, and the game becomes faster and faster as you go along.
The question, then, is - are you up to the challenge? Can you conquer the global #1 spot as the best word master there is? Download Wordastic and find out now.
HOW TO PLAY
Simply tap a letter to add it to the word you're currently building.
Tap the last letter of the word currently being composed to erase it.
Tap anywhere on an empty space to erase the entire word.
A round, multi-coloured rotating wheel is a wildcard, and can be used as any letter in the word.
If you see several letters you want to use next to each other, swipe through all of them to add them all.
Some letters give you extra bonus points when used in a word.
The longer the word, the more points you get when you complete it.
FEATURES
Two game types: a relaxing Classic mode and a dynamic Arcade mode.
Infinite gameplay - as long as you're fast enough to keep up!
Beautiful, unique graphics, thanks to an advanced engine from Desert Quest.
Soothing, relaxing soundtrack.
Global high scores let you compete against the entire world.
Autosave so you never lose your progress.
Tweet
Screenshots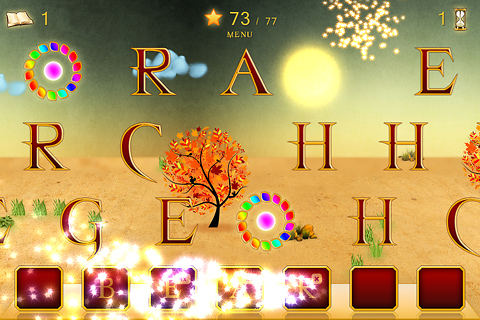 The main screen.
Full-Size Image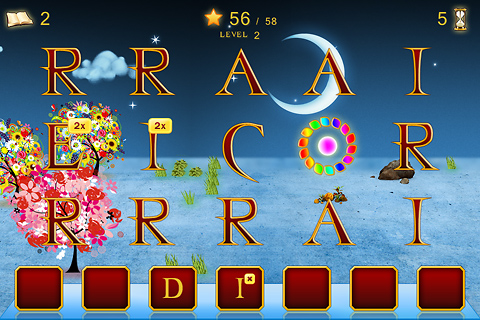 One of the puzzle levels in the game.
Full-Size Image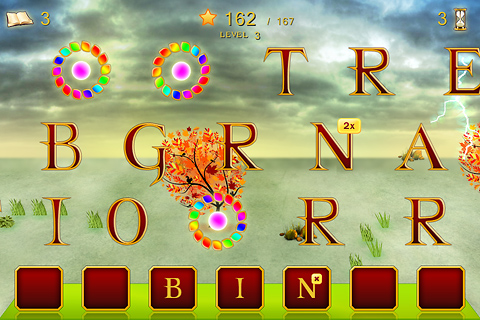 Another puzzle level.
Full-Size Image